Ocean City, MD Fishing Report
It sure is nice to be back in Ocean City and arriving with high expectations for a great season. The beginning of week brought great promise with lots of small yellowfins all along the 100 fathom line between South Poormans and about the 800 square just above the Washington canyon. The water that seemed to be holding the bait was 68 to 69 degrees clean green and at times became hard to get a spread back in behind the boat with so many bites. The spreader bar and naked ballyhoos did the trick.
Great charter fishing; plenty of throw backs about 4 to 1 on, grabbing a keeper, lots of 26" fish. Inshore there were some bluefins….90% small 39" to 45" with the water 66 degrees and very clean green. Places like the Hambone up north and the Lumpy bottom down to our south are starting to hold more bait like sand eels and small squids. However, I feel the fish are still moving about everyday with no real consistency as of late, seeing lots of fish cutting on top and moving fast.
As the end of the week approached us most guys were shark fishing in a tournament. We did some ourselves and had plenty of success with the blue sharks and dusky's however no makos for us. Not fishing in the tournament rather just charter fishing this weekend I couldn't wait to get back out to the yellowfins. One small problem…the WEATHER sorta got us…Friday was perfect almost too nice.
There were fish caught in the Norfolk and down to the 250 line all in 100 fathoms or better. Again mostly small fish, however the further south you went the bigger the tuna would get. Heard of some nice 50 and 60lber's caught and even for some of us up this way found a few 35 and 40lber's on the deep rod. However, as the front approached the winds gently switched around to the SW and game over by late in the day….bummer!
We did manage to get our overnighter in…we just had to start after our day trip. Phew! The weather held off just long enough for us to get back in by noon, now it's bad. Anyhow we had a great group from Fairfax,Va. . We had a blast, plenty of shark which is what they wanted so we put them on 'em! Plenty of the blue dogs and again no mako…ahhh, next time.
In the morning we got real lucky with blufins, they popped up for about an hour and then they were gone. The bluefish action was pretty good too. Nothing better than getting covered up with the bluefish when you're tuna fishing. Oh ya, I heard the guys down in the Norfolk on Friday getting them out in 100 fathoms or so. Looking forward to a super week , we get to get back at it on Tuesday after the weather breaks.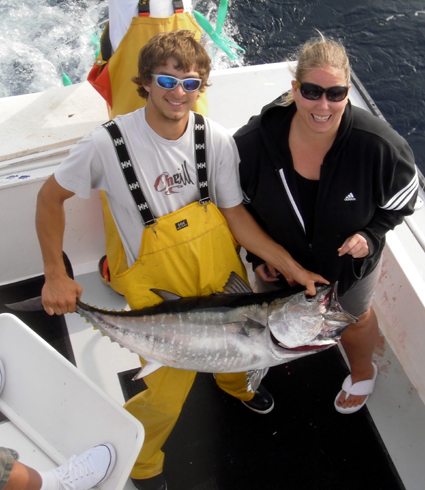 Capt.John Oughton – THAT'S RIGHT
cell 305-481-6527