Things have been slow the last couple of days. We managed a few bluefins, but it was hard work.. The weather has been horrible for fishing lately
8-3 Stayed inshore today. Caught a couple on the troll and then spent our time chunking. Caught our limit of under bluefins, but didn't get any overs.
8-5. Spent the day preparing for White Marlin Open. We raised a couple of whites, caught some dolphin and a small yellowfin. Not too bad consifdering how slow it's been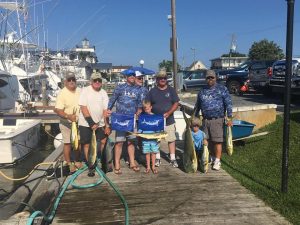 White Marlin open
Wefished Tuesday as our first day. Saw some whites, but a couple wuld not bite and we pulled the hook on one. We released 1 white marlin and a small blue marlin.
Wednesday was a long slow day. We released 1 white marlin. Decided to lay on Thursday and finish Friday.
Finished up with another slow day. Overall we released 1 blue and a few whites. Not much in the way of tunas or dolphins.
The white Marlin open is over. The winner was an 83lb White marlin. First place was not in all the calcuttas and got aboy 130k. The second place white took the calcuttas and ended up with 2.5 million. A 74lb tuna got 904K. Not a bad payday,